If you are working in a factory or the construction business, having the proper equipment is key to the efficiency of the business and the safety of your employees. Not only will having the right lifting equipment help you with the speed of your daily tasks, but it will help keep yourself and your workers safe.
Just think about it – if you are taking your workers lifting heavy objects repeatedly, there is a higher chance of injury to their muscles, repetitive joint injuries, accident possibilities, and physical stress.
Not to mention, some loads are just too heavy for workers to carry and lift off of the ground – if you find that you are having trouble completing your daily tasks in a factory due to the inability to lift heavy items, then you might find it beneficial to use a lifting gantry.
But how can you choose the best lifting gantry for factories? What is the best lifting gantry to lift heavy objects from your factory? By understanding the different types of lifting gantries, how you can choose the best one, and the different characteristics of lifting gantries, you can choose the top option for your factory.
Let's see more information about what a lifting gantry is, why you need one, and how to choose!
Need help with your factory? Use a lifting gantry to lift heavy objects!
If you are new to the factory or construction world, then finding out how to choose the best lifting gantry is key to being able to safely and effectively complete your daily factory tasks.
Portable lifting gantry (adjustable) –
If you need to move the lifting gantry between various spots in your factory, using an adjustable lifting gantry is an absolute must!
If you are using your portable lifting gantry in a workshop, factory, or business and you frequently need to lift heavy objects in multiple places, then using the adjustable lifting gantry is a must. Use the adjustable lifting gantry to change the height so you can accommodate various shapes and weights of objects!
Adjustable lifting gantry with a thicker beam –
If you are looking to lift heavier objects and need a less portable lifting gantry, using one that has a thicker middle beam is a must to lift weights that are between 120kg and 175kg. Using the stronger aluminum lifting gantry is the best way that you can avoid using multiple workers in your business to lift excessively heavy objects.
External trolley –
Another way that you can choose the lifting gantry for your needs is to be able to accessorize and customize the gantry. For some factories, you might need to use an external trolley to work in tandem with your aluminum lifting gantry to add extra versatility, movability, and transportability.
Parking jacks –
Another accessory that you can use with your lifting gantry is parking jacks – these stabilizers are ideal for helping keep your loads steady and avoid any mishaps.
Bigger gantry cranes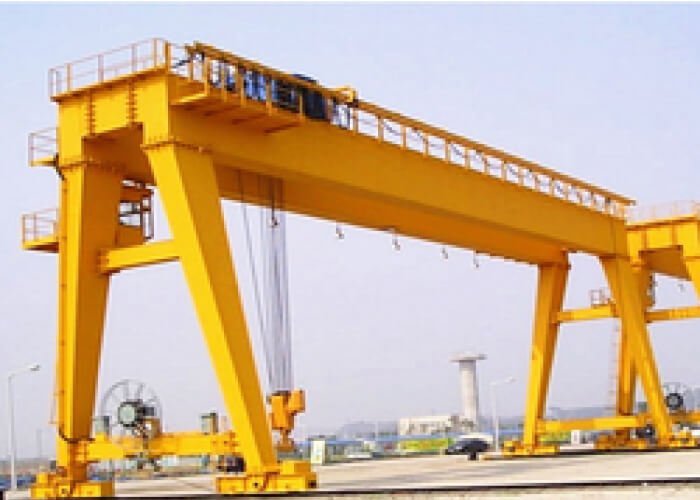 Another option you can consider using for your factory is a bigger gantry crane. Although these are typically used in a shipyard and outdoor spaces, if you have a big factory you can use the oversized gantry cranes to lift heavy and unwieldy objects, like big shipping containers and multi-ton objects.
Full gantry crane –
If you need to use a gantry crane to lift extremely heavy objects, consider using a full gantry crane to lift ships, big pieces of equipment, and heavy objects that cannot be moved with portable lifting gantries. Some of the biggest gantry cranes are as long as 140 meters!
Rubber tired gantry crane –
Smaller gantry cranes are another option for smaller factories that still need to lift heavy objects in outdoor spaces, such as containers and big pieces of equipment. Typically, you'll find that small rubber tire gantry cranes are straddle cranes that can effectively lift containers with ease.
Portable gantry crane –
As we mentioned before, portable gantry cranes are usually the best idea for those who are running factories. These portable gantry cranes are used to move small items that are usually less than 10 tons in weight.
Used frequently in the construction and machinery businesses, you will find that using a portable gantry crane is the best way that you can lift heavy objects with the added versatility of being portable and customizable
Benefits of lifting gantry
So why should you use a lifting gantry crane for your business? There are many reasons why it will help your effectiveness, flexibility, and safety in the workplace.
Mobility –
Lifting gantries are more movable and contain more flexibility than other options. Instead of being stuck in one place where you cannot move the loads, or being tied down in one location, the flexible moving gantry lets you wheel the apparatus around your factory. This way, you can lift various objects between locations without having to worry about the safety of your workers or other equipment
Capacity –
The majority of mobile lifting gantries are very sturdy and durable. Typically, you will find that the lifting gantry options that are used for factories can lift up to 5 tons with ease. If you need stronger lifting gantries for your factory, consider using a full gantry crane for your outdoor spaces.
Custom height and accessories –
The last reason that you should consider using a lifting gantry for your factory is that you can customize the height of the gantry to work with various shapes of boats that you are lifting. Not to mention, you can add accessories to make your lifting gantry more versatile, easier to maneuver, and more stable.
Conclusion
Are you working in the faucet or construction industry? If so, using a construction lifting gantry crane is ideal to be able to lift heavy loads, keep your workers safe, and increase the flexibility of your workplace. By having portable lifting gantries, you can lift heavy objects between locations in your factory without worrying about the safety and health of your employees – not to mention, you will increase the efficiency and productivity of your workplace!
Read Also: