It's never easy watching someone you care about go through something like addiction.
Many times, people in this situation watch the person they care about to deteriorate and become a different person.
If you think your loved one is addicted but you're not sure, be on the lookout for these warning signs.
Their behavior has changed. You notice them becoming more withdrawn, angry, combative, or abusive towards you.
You notice them becoming obsessive
They're hiding things from you. Maybe you found needles or empty vodka bottles under their bed or in their bathroom
They've come home bruised or beaten up but won't tell you what happened
They aren't sleep
They slur their words
They're losing weight or their outward appearance has changed for the worse.
If your loved one shows any of these signs, there's a good chance they might be addicted. If you're watching someone you love spiral into addiction, there are ways you can help to overcome addiction. Here's how.
6 Ways To Someone You Know Overcome Addiction In Illinois
1. Call your local rehab center
Places like Lincoln Recovery or your local hospital are a great resource for you to tap into. They'll be able to help you determine the best treatment options for your loved one without making you or them feel ashamed. They'll be able to give you advice and tools. They can also help you plan something called an intervention.
An intervention is when family and friends of the addict's life come together to make their loved one understand that they need help. Interventions must be planned so they don't cause more problems. While it's going to be awkward and uncomfortable, an intervention that's done right can gently push your loved one on the path to recovery.
2. Establish trust
This is a huge thing. Often trust is broken between addicts and the people they love the most, and while it may be difficult to achieve, getting them to trust you is so important. Otherwise and intervention won't work properly.
To start building trust with an addict, you have to learn not to nag, yell, exaggerate, lecture, or engage in any substances they're addicted to. Asking them to stop drinking when they see you drinking, even if it's only a small glass of wine at night, can make them defensive.
Trust will also help prevent stress. If they trust you more, they'll be less stressed and feel more comfortable opening up to you about their addiction. Most addicts know they have a problem deep down, they just don't want to admit it out loud and make it real. Don't do anything that will keep them from opening up to you about it.
Watch their body language to help you determine if your attempts at trust-building are working. If you notice them growing stiff or becoming agitated pull back and try again another time.
3. Never blame
Even if the person who's addicted made you lose money, your reputation, etc. do not try to blame them for it. While they need to take responsibility for their behavior, blaming them for things while they're addicted will get you nowhere. It will only make them more resistant to change, defensive, and closed off.
Speak in the first person, only about how you feel or what you think. Whenever you talk to them about their addiction, use "I" statements. "You" statements can come across as blameful and can do the opposite of what you hope to achieve in the conversation.
Avoid insults and negativity at all costs because that is the blameful language that will make them defensive. For more information on using "I" statements, click here.
4. Always practice empathy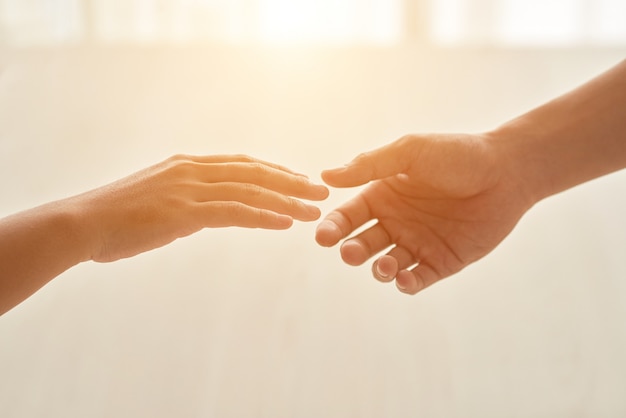 You see how dangerous it is to blame the addict in any way, either for their addiction or their behavior. Leading with empathy, whether your staging an intervention or not, can help the addict feel more comfortable and open up.
Tell them that you understand they're hurting, and while you don't know what they're going through firsthand, you're there to help in any way you can. You want to be a part of the solution.
Offer assistance in any way you can. By doing this, you might find that the person has been waiting for someone to talk to them about it but has been too afraid to bring it up themselves.
5. Prepare for backlash
What you have to understand is that addiction affects the chemical balance of the brain. This can make them delusional, combative, or standoffish. They may outright refuse to admit they're addicted to anything and if they do, they might turn the blame on you.
Addicts try to get out of responsibility, and taking responsibility for their addiction is another thing they're going to try to dance around. Prepare for harsh words, yelling, and threats. Stay calm and listen to everything they have to say.
Don't engage in yelling or screaming or try to push the blame back on them. It will only make the situation worse. If you feel like you're in danger, remove yourself from the situation or call the police.
6. Stop enabling
If you're allowing the person you love to do drugs in your house or get drunk in your house, stop. Tell them that they aren't allowed to do that in your home anymore and if they refuse, ask them to leave. It sounds harsh, but they have to learn that there are consequences to their actions.
Stop buying them their substance of choice. Practice sobriety yourself so you don't have alcohol or drugs lying around the house for them to consume. If they frequently borrow your car, remove car privileges so they can't drive under the influence. Refuse to give them cash. If they say they need a few bucks for food, buy them actual food or not at all. But never give them cash or cards that they can use to purchase drugs or alcohol.
While this might seem like you're not leading with empathy, you are. You don't have to be mean about doing any of these things. You can simply say, "I don't want you driving my car under the influence, it's not safe." Or "I can't give you cash, but I can buy you food, water, groceries," if that's what you want to do. Just avoid putting the blame or accusing them of anything.
To learn the difference between helping and enabling, follow the link. https://www.verywellmind.com/how-to-stop-enabling-an-alcoholic-63083
Read Also: